MACH 5
Definitely one of our faster boats. Getting from point A to point B is never an issue. Seats up to six people with their luggage in the below compartment.
MODERN LUX
Much more of a luxury boat, hence then name...and amazing for day trips! Has a bathroom and a kitchen. You'll definitely want to sit back and relax in this boat!
SUMMER ESCAPE
Great for day trips and small destinations with small parties of 4-6. Has more than meets the eye in the lower cabin. Has a bathroom onboard.
ADDITIONAL BOATS
We have additional boats available that are currently not posted. We can accommodate groups up to 149 passengers for transport in between USVI/BVI. Contact us for more information.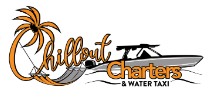 GIVE CHILLOUT CHARTERS A TRY & EXPLORE THE WONDERS OF THE BVI & USVI!
The Most Convenient & Hassle Free Way To Get
Between The USVI And BVI!
Chillout Charters Water Taxi, transfer guests between the British Virgin Islands and US Virgin Islands. We are not only affordable, but also the best and most reliable option, offering a fleet of sleek, spacious, and comfortable boats, making sure you arrive in style and on time! Our vessels are equipped with large water tight luggage compartments so that your suitcases stay safe and dry throughout the journey! We can pick you up and take you directly dock side to your charter yacht company, yacht at anchor, hotel, or villa. We can even arrange a private land taxi to take you to and from our vessel.
Open Monday - Saturday: 9:00AM - 5:00PM
Sunday - Office Closed
Emails/Whatsapp Monitored 24/7.
Tel/WhatsApp #: 1 (284) 340-1122
e: chilloutchartersbvi@gmail.com
w: https://www.chilloutchartersbvi.com/